Yaya DaCosta
(born
Camara Yaya DaCosta Johnson
; on November 15, 1982) is the runner-up in Cycle 3.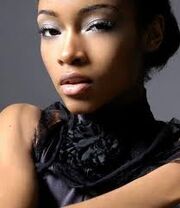 She graduated from Brown University, majoring in International Relations and African Studies.
Early life
DaCosta was born in New York City. Yaya is African American.  Like many Americans she has a myraid of bloods, some of enslaved African and Indigenous(Cherokee)as well as settlers, such as : Irish, Carribean ( Montserrat) and Brazilian.   DaCosta's mother is a Montessori teacher. Her father is a professor of Sociology.
Career
After finishing in second place in America's Next Top Model, where she is considered one of the most memorable contestants, DaCosta went on to a successful career. She is currently signed to Models 1 London and Ford Models. She has modeled for Target, Olay, CharmaineLouise, DJA Clothing Company, Venus Clothing, Isaac Mizrahi, Kohl's, Seven Magazine, Interview Magazine, Essence Magazine, Jewel Magazine, Elle Girl Presents Dare To Be You: Wal-Mart Meets America's Next Top Model, Marc Bouwer Fall 2005, Seda, Garnier Fructis, Lincoln Townhouse, Radioshack, Dr. Scholl's and Sephora.
DaCosta has been acting and dancing all of her life and attended the acclaimed Manhattan East Jr. High School in NYC where she met her current acting teacher. After a brief stint modeling, in 2005, she had a small role in an episode of "Eve" called Prom Night. Since then she has acted in several major motion pictures; Take the Lead, Honeydripper, The Shanghai Hotel, The Messenger and probably the most well known, The Kids Are All Right. She also acted in a TV movie called Racing for Time and received critical acclaim. In 2007, she was cast on All My Children as Cassandra Foster, the daughter of Angie Hubbard.  She broke away from daytime television in 2008 to rave reviews Off-Broadway in "First Breeze of Summer" with Leslie Uggams.  In Fall 2009, she broke into Primetime on the hit show, "Ugly Betty" playing the new (re-cast of ) "Nico" , daughter to Vanessa Williams' "Whilemina" and is currently receiving wide acclaim for her dramatic range and comedic timing.
Personal life
DaCosta is fluent in English, Spanish, Portuguese and French. DaCosta graduated from Brown University where she studied International Relations and Africana Studies. She is 5'8, 118lbs and her measurements are 32-23-35.