Spider-Man: No Way Home Trailer Dropped - The Loop
Play Sound
"The Girl Who Wants It Bad" is the premiere episode of cycle 1 of America's Next Top Model. It first aired on May 20, 2003, and garnered 2.90 million viewers.[1]
Episode
The series premiere opens with Tyra explaining why she started the show, and revealed that there were thousands of tapes submitted.
Twenty semifinalists enter a hotel, where Michelle Mock states at dinner that only ten girls will advance. Tyra later greets them by surprise. She addresses the casting tapes of Justine and Christina. Interviews then take place.
Auditions
Elyse is first. Tyra asks if she had a passion for modeling. Elyse says she's applying to medical school. When asked if she had to choose either modeling or med school, she picked the latter. Ebony is shown next, and Tyra says they know that she is a lesbian. She asks if she's okay with expressing that on television. Ebony says there was no problem and is open about it. Katie states that she loves animals and is a member of PETA. However, she admits that she's not a vegetarian and eats chicken. There is a small montage featuring April and Ebony M.
Natalie says that she comes from a broken home. She has eight siblings, her mother was on drugs, and she and her two sisters lived in foster care. Shannon is asked if she has always been religious, which she confirms. She says that she's a virgin. Justine states that she likes to be the center of attention. When asked what sets her apart from the other blondes, she says a better looking face. Kesse is asked what her relationship with her mother is. She reveals that they aren't on the best of terms, and that her father was shot and killed. She says the infamous reality TV line "I'm not here to make friends!". Adrianne says that she comes from the Boondocks, and that she's a big tomboy.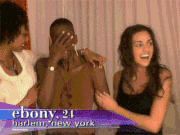 There is another montage with Shawna, Christina, Nicole B., Lenora and Jakai. Nicole says she wants it the most of all the girls. Robin comes from pageantry, and looked to her left and right while walking. She says she got inspiration from Tyra at Victoria's Secret.
After interviews are done, the finalists are selected. Tyra says that she and the producers can only agree on eight. The order is Nicole, Robin, Kesse, Elyse, Katie, Ebony, Adrianne and Shannon. Justine and Natalie are shown to be disappointed. The next scene is of all the girls being driven to a penthouse.
Tyra Mail: Welcome to New York! Congratulations on your arrival. enclosed are the keys to your penthouse, head on upstairs, find your beds, claim your space and explore your new house!
Each room in the penthouse is themed after a major fashion capital - Paris, Milan, Tokyo, London and Miami. Elyse, Nicole and Katie pick the Tokyo room. Robin, Shannon and Kesse decide to share the Milan room, since they are all devout Christians. Adrianne and Ebony settle for the Miami room. Elyse complains that the separation of the rooms has much to do with religion, and she says she's an atheist. Shannon reveals her crush, Brad Pinkert. The Tokyo room discovers pull-out beds under their regulars. They think that its for their boyfriends.
Tyra meets the girls at dinner, and surprises them with the inclusion of two more girls, Tessa and Giselle. Giselle calls herself a performer and dancer, and Tessa calls herself a girl next door. Tyra then reveals the prizes, which are a modeling contract with Revlon, a fashion spread in Marie Claire magazine, and a contract with Wilhelmina Models. Giselle and Katie are compared. Adrianne bonds with Tessa, being the only two smokers in the house. Robin and Shannon confront the two, with Robin saying that the house stinks and the smoke is getting their clothes and hair. Shannon calls Robin the mom of the house.
Later, Jon Silverman shows up as their personal trainer. He measures all the girls height and weight.
Katie: 5'9" and 120 lbs.
Nicole: 5'11" and 122 lbs.
Shannon: 5'10 1/2" and 130 lbs.
Giselle: 5'10" and 136 lbs.
Adrianne: 5'10" and 134 lbs.
Kesse: 5'9" and 136 lbs.
Tessa: 5'9" and 125 lbs.
Ebony: 5'10" and 131 lbs.
Elyse: 5'10" and 114 lbs.
Robin: 5'10" and 165 lbs.
There is a second visitor, Jonice Padilha, a bikini waxer, as well as her workers. All the girls are forced to have a Brazilian wax. Giselle is scared of the pain, while Robin is uncomfortable with having her private area touched. The girls are then shown shopping at the supermarket. There is a Tyra Mail waiting for them.
Tyra Mail: You have a photo shoot for J. Lo swimwear tomorrow morning. Be in the hotel lobby at 7:45am sharp (Bring a photo ID)
The next morning, Robin, Shannon and Ebony take too long to get ready, at least until 8:02am, and Kesse patiently waits for them. They realize the other six girls already left, and they had to take taxis. Tyra arrives on set and calls out the late girls.
Photoshoot
Tyra introduces the photographer, Douglas Bizarro, and his partner, Elizabeth Moss. Douglas says that the swimwear shoot will be done on the roof in the freezing cold. He explains that swimwear is shot in the winter. Tyra gives advice to give face before body, and think about something, otherwise they'll have dead eyes.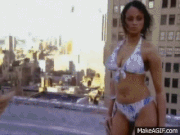 Adrianne is first to shoot, followed by Nicole. Douglas says that she listened to him well. Tessa struggles, posing awkwardly. Elizabeth says that is was her problem that people were teaching her the wrong way. Robin covered her hips up. Elyse got so cold that she started crying, most likely due to her low body fat. Giselle just went for it, and Douglas thought she did a good job. For Ebony, Elizabeth commented that she looked beautiful, but didn't move around much. Katie was very difficult to shoot, looking too sexy. Shannon also struggled, having no life in her eyes. Kesse was easy to shoot, giving the most face.
After the shoot, the girls have dinner at The Palm. Robin asks if Elyse believes in anything, and she reveals to be an Atheist, much to Robin's dismay.
Tyra Mail: Tomorrow, nine of you will continue on to become America's Next Top Model. One of you will be eliminated...
Judging
At judging, Tyra introduces the judges: 70's supermodel Janice Dickinson, Beau Quillian, fashion editor of Marie Claire, and Kimora Lee Simmons, owner of Baby Phat fashions. Douglas is the guest judge.
Katie is the first girl to be judged. Janice asks why she hooked her finger in the bikini bottom. Tyra defended her by saying she did a similar pose on the cover of Sports Illustrated.
Kesse: Douglas praises her, and says that her best shot was the second taken in the set.
Adrianne: Beau asks what her shoe size is, and she answers eleven. Janice thinks the face is good, but the foot is bad.
Nicole: Douglas says Nicole did the best of all the girls. She gave the most and had great angles.
Ebony: Janice says she needs to tone her thighs and butt.
Giselle: Tyra loves her mole on her nose. Douglas says that she's not his favorite in person, but turned it out on camera.
Shannon: Janice notes her rib cage being visible, but forgives it because she's eighteen. Douglas thinks her skin is too leathery.
Tessa: Douglas didn't like the swimsuit she was in, and Tessa admits she doesn't like wearing revealing clothes. Janice says she's in the wrong industry.
Robin: Tyra thinks that she isn't plus-size on the top, but she is on the bottom. Kimora says 26 is too old to be a Top Model.
Elyse: Beau asks if Elyse is naturally thin, which she confirms. Tyra's fine with it, but Beau disagrees.
At deliberation, Janice wants Robin out because she doesn't think the winner should be plus-size, which Kimora and Tyra heavily disagree on. Everyone thinks Nicole is in. Tessa's personality is called into question.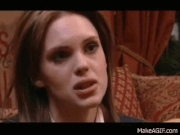 Call-Out Order
| Call-out | Model |
| --- | --- |
| Best Photo | Ebony |
| 2nd | Elyse |
| 3rd | Kesse |
| 4th | Adrianne |
| 5th | Katie |
| 6th | Nicole |
| 7th | Giselle |
| 8th | Robin |
| Bottom 2 | Shannon |
| Eliminated | Tessa |
Semi-Finalists
Trivia
The contestants were told that only ten of them would make it to the finals, but after their meetings with Tyra Banks and the producers, only eight advanced. Two more contestants, Giselle and Tessa, were added to the final cast following a separate audition.
The outfits Tessa and Giselle wore when they first entered were the same as in their casting photos.
This is the only episode where Tyra doesn't explain why the last two girls were in the bottom two.
Quotes
"I'm with my kind, a bunch of Amazon women with big feet, and I feel like I finally fit in for once." (Adrianne)
"Well, I actually thought about that, and medical school can be deferred indefinitely, whereas being twenty years old cannot." (Elyse)
"If I had to pick two people to be in this house, I would not be among them. Oh, I'm not confident at all, I think I'm out." (Elyse)
"I love attention. I like, try to be the center of attention. I mean, I wake up everyday, my mom calls me, "You're great, you're wonderful, you're be-" I'm like, yes, I know." (Justine)
"I mean, at this point, I just can't stand anybody. There's a few that I don't even know why they're here." (Justine)
"I did good, I did great, I'm the best, I know it!" (Justine)
"I am the true DIVA! Devastating, Intriguing, Vivacious, and just All That! It's time for me to take what's mine!" (Kesse)
"Oh, I love my body. You wanna see some of it right now?" (Jakai)
"You know what, how about this. I'm so happy I'm here, no one wants this effin' room, I'll take it!" (Adrianne)
"I don't mind y'all killing y'all selves but y'know, mama wanna live!" (Robin)
"There's been only two people that's been down there, myself, and my gynecologist, and I give him crap." (Robin)
"I better be a damn supermodel after this, that's all I have to say." (Giselle)
"I'd say its about twenty degrees!" (Adrianne)
"I had to drop my shoulder, keep my arm in, keep my fingers together and my thumb hidden, while holding my high heel and sucking back snot." (Elyse)
"I think that might be alienating me a little bit from the other girls. But at the same time, I'm not going to pretend I don't believe in evolution just so I can be friends with Robin." (Elyse)
Gallery
To view the gallery for "The Girl Who Wants It Bad", click here.
References