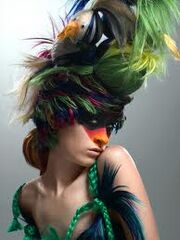 Amanda and Michelle Babin
(born June 28, 1987) ranked 4th and 5th on Cycle 7, respectively.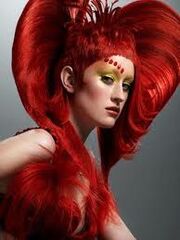 Before ANTM
Michelle was a student and Amanda a bookstore sales associate. Both of them come from Anaheim, CA. The were signed with LA Models before the show. They both attended Brookhurst Jr. High School.
On the show
The twins were cast together on Cycle 7 of America's Next Top Model, although when Tyra was selecting the top thirteen contestants, Michelle was called third and Amanda was called second to last (twelfth). From the beginning it appeared that Michelle had a more natural ability to model, getting the first call-out in the first week, however was subsequently only ranked in either fourth, fifth or sixth place during the remainder of the competition. On the other hand, Amanda had a lot more drive, was never placed below eighth place at any stage and had made a huge improvement throughout the competition. When they both made it on the top five, they were told to critique the other contestants and Amanda recieved two votes (from Eugena and CariDee) as having the least potential out of the five remaining girls (despite never even appearing in the bottom three at any stage so far) and Michelle sacrified herself, calling herself the worst, in hopes the judges would select her sister, Amanda to continue on over her. Michelle was eliminated in the same week when Amanda survived her first ever bottom two appearance and at the end of the next week, Amanda was the tenth girl to be eliminated when CariDee survived her second bottom two appearance.
Each of them received one first call-out, Michelle when Christian was eliminated and Amanda when Brooke was eliminated. They also landed in the bottom two twice throughout the competition (once together (When Amanda survived and Michelle got eliminated) and at separate times, when Michelle survived over Anchal and Amanda who was eliminated and lost to eventual winner CariDee).
After the show
The twins have continued to model but haven't been very successful. They have appeared on ANTM twice: in a photo-shoot on Cycle 8 and in the casting week of Cycle 10.