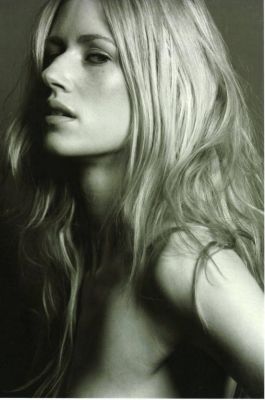 Shandi Dawn Sullivan (born 2 April 1982 in Kansas City, Missouri) ranked 3rd on Cycle 2.
Before the show
Shandi worked as a clerk at Walgreen's. She has stated that her mother considers her the ugly duckling.
ANTM
Shandi started off rocky, landing in the bottom two on the second episode but the judges kept her because they felt that despite her unmodelly look and poor walk she had a great potential. She totalled 2 first call-outs (and was edited on the show to get a third one) and 2 challenge wins. She cheated on her boyfriend with a male model while she was in Italy and lost her desire to be in the competition. She was eliminated the following week.
After the show
Shandi works at an exclusive spa as a receptionist by day, and does her true love, karaoke, by night... She and her boyfriend reconciled but their relationship didn't work out. She has modeled for Cover, April 2007, Fred Flare, Samsung, US Weekly and Donna L'orèn. She has also taken part in ElleGirl presents Dare To Be You: Wal-Mart Meets America's Next Top Models 2005. She has now left the industry and work as a deejay at a nightclub in Manhattan. She has appeared many times on the Tyra Banks Show and was nominated for two Fiercee Awards but lost. She was awarded a Biggest Change award by Tyra Banks for her many look changes.