Renee Alway
(born April 29, 1986 in Maui, Hawaii) is an American fashion model and the s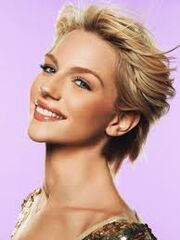 econd runner-up of
Cycle 8
.
=='America'252s Next Top Model==' Renee Alway was one of the final three contestants on Cycle 8. She heard about the audition the day before it took place in Chicago, and had been in town to get married. She went to the audition four days after she got married.
On America's Next Top Model, Alway took some strong photos and it was said that she had the best body proportions for fashion, but was continuously criticized for looking too mature and old. This led to her being eliminated as the season's second runner up in the season finale. She didn't appear in bottom 2 until Episode 13.
Her attitude became a controversy during the show. At the recap episode, the 4th place Dionne Walters said that Renee is fake. After an intervention was staged with the girls by Tyra, Renee realized a bad person could not win the competition, so she decided to change her attitude.
During the go-see challenge in Australia, Alway put her baby's photo in her portfolio, as an attempt to impress the designer who has a new born child. This action received no positive effect in return as she did not win the challenge eventually. In the final episode where the final three contestants had to shoot for Cover Girl commercial, Alway ad-libbed into a commercial that she thought her life was over when she had her baby nine months earlier, to which Jay stopped her and told her she needed to be positive and not negative for the commercial. Upon hearing Jay's advice, she managed to turn things around and excel the commercial. Not only did her brilliant performance win the affection of the judges successfully, Alway's picture of the CoverGirl cosmetics also garnered her positive comments, as she was being described as elegant and sophisticated. Much to her dismay, Alway's fate was sealed because she was thought not as young as the other two contestants left.
Overall she had two first call-outs and two challenge wins.
Modeling/Acting career
Renee started modeling when she was 10.[1] Before Top Model, she modeled in New York, Europe and Japan and appeared in Seventeen Magazine and Italian Vogue.[2] She also appeared in ads for Delia's. Renee appeared in US Weekly with Jaslene Gonzalez, Natasha Galkina and Dionne Walters.
Alway announced that she has signed with NEXT Model Management in Los Angeles from her MySpace.
She has appeared in CBS TV series Shark, in the episode "In Absentia".
Personal life
Before Top Model, Renee was a stay-at-home mother, she and her husband Jason have a young son named Troy. She has said that she has a lot of respect for German supermodel Heidi Klum. She has stated that she will move to Los Angeles and continue with modeling and shooting a film.[1]
References
External links