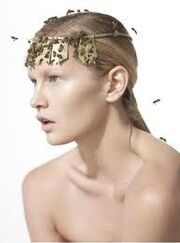 Molly O'Connell
(born November 28, 1999) is an American fashion model, best known for her participation in the 16th cycle of America's Next Top Model, where she was the runner-up
Cycle 16
During her time in Cycle 16, Molly was known for producing beautiful pictures that stunned and captivated the judges, but she was often castigated for her pessimistic personality and tough and unfriendly attitude. This often led the judges to doubt that she would do well in the industry because of her bad attitude and that it often seemed she had a lack of desire for the competition. In her cycle, Molly achieved 4 first call-outs, 2 second call-outs and won a challenge. She also appeared in the bottom two twice, the first time with Dalya Morrow (for letting her hair problems affect her photoshoot) and the second time with Jaclyn Poole (for her bad attitude), but was spared both times. Molly made it to the final 2, where her portfolio was deemed to be strong, but she lost out to Brittani Kline, due to Kline's outstanding runway walk, fantastic Covergirl commercial and equally strong portfolio.
The Weave
Molly's makeover in Cycle 16 was a long, thick, blonde weave which caused her great problems throughout the cycle. Her first problem was when the weavologist sewed the weave on incorrectly, so it was only half on her head, but Tyra had it re-done for her to O'Connell's relief. However, the new weave caused scalp problems, agrivating Molly greatly, and making her attitude even worse. Eventually, Tyra took out the weave completely and just left Molly's natural hair.
Post ANTM
Molly has been signed with Images Management in New York.
Community content is available under
CC-BY-SA
unless otherwise noted.