Mercedes Yvette Scelba-Shorte'
, also known as
Mercedes Yvette
, (born August 24 1981, from Valencia,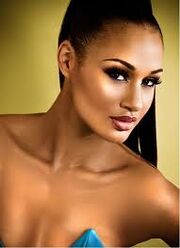 California), was a finalist on the cycle 2 of America's Next Top Model. During the season, Scelba-Shorte revealed that she suffers from the disease lupus.
Before Top Model
Scelba-Shorte is half Caucasian and African-American, and has a Chinese step-father. She was born in New Jersey but her mother moved her to California at a young age. She was studying at California State University, Northridge before auditioning for America's Next Top Model. She also appeared in the MTV reality show Inside Fear.
Modeling Career
After appearing on America's Next Top Model, she became a spokesperson for the National Lupus Foundation of America. She signed with NOUS Model Management.
She has appeared on the cover of Wedding Dresses magazine in 2005, Lupus Now magazine (Fall 2004,Fall 2007),and Arthritis Today. She has also graced the pages of Teen Vogue. Her commercial credits include: Chili's, Target, Hewlett Packard, Sears, AT&T, Payless Shoes, Bell South, and Chevy. Other modeling credits include: Anchor Blue, Kohl's,Old Navy, Wal-mart Halston, Mervyn's, and Macy's. Her runway credits include: Dsquared Milan Fashion Show Spring 2004, Studios John Sakalis Fall 2004 and Ellegirl presents Dare To Be You: Wal-Mart Meets America's Next Top Models 2005. Mercedes was also in a commercial for Chili's Restaurant in 2007.
Acting
She has also landed small roles in a number of TV shows including One on One, All of Us, and The Bold and the Beautiful.