Kimberly Rydzewski
was an American fashion model. She is best known for being a contestant in Cycle 10 of America's Next Top Model. She is the 3rd contestant to have quit the show.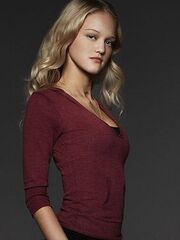 Cycle 10
Kimberly was the fourth girl chosen to be in the final 14 contestants. Despite producing a stellar photo, Kimberly stated to the judges in the panel that fashion didn't appeal to her because she didn't see the point in paying so much money for one item of clothing. She gracefully removed herself from the competition to everyone's dismay.
Why she quit
Months later, Kimberly appeared on the Tyra Banks Show where the truth as to why she quit was revealed. Her boyfriend had committed suicide. This caused her to become depressed as it reminded her of her mother's suicide when she was young. She said she went on the show to become distracted, however, it created more pressure, so she bowed out gracefully.
Career After ANTM and Unfortunate Passing
After leaving the competition, Kimberly managed to successfully establish her brand, being featured in numerous online ad campaigns and fashion spreads. Her quirky posing and natural confidence gave this model an edge in the industry, making her one of the one of the more sought after Top Model alumni. On Monday, December 19, 2016, it was announced that Kimberly Rydzewski had passed away. She was described as a compassionate and loving person, supporting several causes including the Humane Society.
Community content is available under
CC-BY-SA
unless otherwise noted.