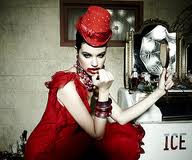 Jaclyn Poole
is an American fashion model, best known for competing on the 16th cycle of America's Next Top Model, where she placed 6th.
Cycle 16
Jaclyn immediatedly became known as the sweet girl of the cycle, because of her good nature and southern accent. She began the cycle near the bottom of the pack, producing a stellar photo in Episode 1, but poor film overall. She began to grow as a model, being deemed a stand-out within her group in the third episode earning her 5th place call-out. She also impressed the judges with her acting skills and commercial in Episode 4, where she was paired with Kasia, and used her accent to her advantage, earning her a 3rd place call-out. Jaclyn wowed the judges in Episode 7, delivering her high fashion shot and strong film that easily made her the best of the week. Shockingly, Jaclyn was sent home in the next episode for only making it to half of her go-sees and was eliminated over Molly O'Connell, despite Molly's attitude problems and pessimistic ways. Jaclyn said she was proud of herself and that their was no stopping her, and all of the girls who remained were reduced to tears by Poole's elimination.
Post America's Next Top Model
Poole has been signed with Models International and is already making waves in the fashion industry. The agency said they were happy to have Jaclyn on board and had high expectations of her as a model after seeing her work on the show.