Isis King
(born
Darrell Walls
, 1985) is an
American
fashion model, fashion designer, and contestant on the
eleventh cycle
of the TV series
America's Next Top Model
.
[1]
[2]
[3]
She is the first
transwoman
to compete on the show and has become one of the most visible
transgender
people on television.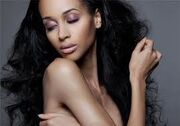 Biography
King is originally from Prince George's County, Maryland and currently resides in New York City. King was born physically male, but has stated that "mentally [and] everything else [she] was born female."[4] She has stated that people might refer to her as transgender or transsexual but she prefers the phrase "born in the wrong body".[4]
Although King came out as gay in high school, she felt that it was still not the accurate label for her orientation.[1] In 2007, King appeared in an MSNBC special, titled "Born In The Wrong Body," which documented the lives of transgender teens from across the United States.[3] King is a "pre-operative" transwoman and began hormone replacement therapy in the summer of 2007 as part of her transitioning process.[5]
She hoped to have gender reassignment surgery as soon as possible.[6] Tyra Banks arranged for King to have sex reassignment surgery by Dr. Marci Bowers. According to King's Facebook page, the surgery was conducted on February 27, 2009.
King has an associate degree from the Art Institute of Philadelphia.[5] She has worked as a receptionist and is currently Program Assistant at a nonprofit organization.[7]
Fashion career and America's Next Top Model
King had been runway modeling for seven years before participating in America's Next Top Model. Her experience included competing in the underground ball culture scene.[8][4]
King was living at the Ali Forney Transitional Living Program when she learned about an upcoming photo shoot for ANTM's tenth cycle.[9] The shoot's theme was the issue of homeless youth, and homeless women would be used as background models in conjunction with the Reciprocity Foundation, which works to move homeless and high-risk youth into careers in the "creativity economy". King asked art director Jay Manuel whether she could be accepted, as a girl "born in the wrong body," if she were to audition as a contestant for ANTM.[9] ANTM host and producer Tyra Banks said later that she had her staff search out King to encourage her to audition based on her stellar performance in the photo shoot. She became one of fourteen finalists for the eleventh cycle of the competitive reality show.[10][6] She placed tenth overall.
King is one of a small but growing number of transgender people and characters in film and television, and her inclusion on ANTM has been called an "unprecedented opportunity" by Neil Giuliano, president of the Gay & Lesbian Alliance Against Defamation[2] By competing on the show, King has brought national and prime time attention to issues of gender transitioning and gender expression.[11][12] New York magazine has called King the cause célèbre of cycle 11, comparing her transsexualism to previous contestant "issues" featured on the show such as cycle 9 contestant Heather Kuzmich's Aspergers syndrome.[13] ANTM executive producer Ken Mok stated that casting her was in support of "redefin[ing] what beauty is," one of "Tyra's original missions" for the show.[14]
Due to the intimate nature of ANTM, which films the contestants living together during the several weeks of the competition, GLAAD spokesman Damon Romine noted that "the show deals head on with the contestants confronting their own phobias. There's going to be support, and the reverse of that. It opens the door for the other girls and the viewers to get to know Isis and the transgender community." Some of King's fellow contestants have expressed prejudices in speaking about how King's gender-transitioning would be poorly received in their own small communities or in the southern United States.[6] Contestants have referred to King pejoratively as a "he/she" and a drag queen.[15] Facets of King's transitioning process have been portrayed in the show, such as her hormone injections and subsequent nausea.[16]
New York magazine noted King is one of few transgender models in history to rise to prominence and that only a handful have reached the higher levels, including Teri Toye, former club kid Amanda Lepore and gender-bending club promoter and model André J..[17] Simon Doonan, creative director of Barneys New York, told ABC News that the time may be right for a transgender supermodel: "Maybe it's time for a tranny Template:Sic to end up on the cover of Vogue."[14]
She appeared on the Tyra Banks Show to discuss her story.[18]
See also
References
↑ Template:Cite web In a promotional interview for ANTM, King stated she is looking forward to runway as she has been walking for seven years.
External links
Community content is available under
CC-BY-SA
unless otherwise noted.