Elyse Sewell
,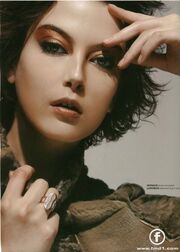 (born June 10, 1982) is an American fashion model based in Hong Kong. A native of Albuquerque, New Mexico, Sewell obtained a Bachelor of Arts in Spanish and a Bachelor of Science in Biology from the University of New Mexico. Her start in modeling came when she entered a reality television modeling competition on the first season of America's Next Top Model, airing at the time on UPN. Sewell was known on the show as the "edgy pre-med student". In 2005, one of her "confessional" clips from the show, in which she started a profanity-laden rant against the people on the show, earned her 16th place on E!'s Most Outrageous TV Moments.
Modeling Career
The most successful contestant out of America's Next Top Model, Elyse has modelled in Milan, Tokyo, New York, Hong Kong, Los Angeles, Seoul, Osaka, Kuala Lumpur and Santiago de Chile. She has done many editorial, runway, catalogue and commercial works.
Elyse has modelled for Chanel, Chow Sang Sang Jewellery, Cyber Color Contacts, Flair by Joc, i.S.O., Motorola, Vidal Sassoon, Stuff Magazine, TV Guide, T+T Clothing, Azona, Dao, Darquer, DTC Diamonds, Giordano, iMaroon, Mae Von, Paule de and Staccato. She graced the covers of Harper's Bazaar, Sisters and Women's Wear Daily. She also did a commercial for Sony.
Personal Life
Sewell dated Martin Crandall of The Shins until January 2008, when he allegedly assaulted her in a Sacramento hotel. Both Crandall and Sewell were charged with felony domestic assault, though their cases were later dimissed. Previously, Elyse told the Singapore Straits Times in an interview that she had dumped her boyfriend because he cheated on her while she was working in Japan..
Writing
Sewell's first book, based in part on her LiveJournal weblog, was published in China in 2006. She appeared in multiple book signings across China where she held demonstrations of how eating the pages of a book can keep you from getting hungry for actual food.