Ebony Morgan
is a nursing studenta and model. She participated in Cycle 9 of ANTM.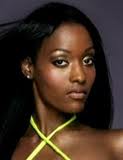 Cycle 9
During the cycle, Morgan was constantly criticized by Tyra Banks for her posture at panel, as well as having to reveal that her mother was a drug addict and being called out on her diva behavior at the semi-finals panel. She later stated in an interview that she just pretended to be a diva to be sure to get in the competition. She was often criticised for seeming uneasy and stiff in panel, and Tyra even stated that she would have got first call-outs in the nature photoshoot and gargoyle photoshoot, if she had just relaxed and smiled in panel. However, she was praised for her improvement from week to week. She eventually quit, stating she didn't feel happy anymore, and a very surprised Tyra allowed her to leave the competition, sparing Ambreal Williams, who was the original eliminee.
After America's Next Top Model
Morgan returned to nursing school although she is rumored to have signed up with Elite. She appeared at the Fiercee Awards, nominated for most dramatic exit but lost.