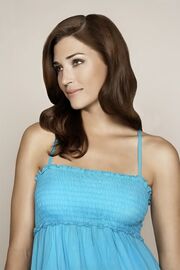 Ann Elaine Markley (born April 11, 1983) finished in 4th Place on Cycle 3.
Before Top Model
Before the show, Ann was a Pharmacy Technician who studied at Mercyhurst College. She was also an NCAA water polo player while at Mercyhurst.
ANTM
On the show, Ann mostly ducked out of elimination thanks to her potential but was often criticized for her dead eyes on picture. She had on call-out and appeared a record 5 times in the bottom two.
Modeling Career
After the show, Markley has signed to Elite Model Management in L.A., NY, and Milan. She is also signed with MC2, Model Management and Images International Management. Since the show, she's been one of the most successful contestants in modeling. She has modeled for Ford Fusion, ELLEgirl Magazine, Gioia Magazine, Joie, Rojas, Heatherette, Nuala, ShopCaravan.com, Glamour Italia Mgazine (May), GQ Magazine U.S. (October 2005, November 2005), Target, L'Oreal, Ray-Ban, Philadelphia Style Magazine, Dutch Cosmopolitan Magazine and Zink Magazine. Her magazine covers include Philadelphia Style Magazine, and Washington D.C. Style Magazine. Ann has also walked in runway shows in Europe and U.S. These include: Ellegirl presents Dare To Be You: Wal-Mart Meets America's Next Top Models 2005, Alice and Olivia Fall 2006, Kara Saun Fall/Winter 2005, Richard Tyler/Delta Fall/Winter 2005, Harmon Fall/Winter 2005, Marc Bouwer Fall/Winter 2005, Cynthia Rowley Fall/Winter 2005, and Nicole Miller Fall/Winter 2005. Ann Markley and Cycle 4 Winner, Naima Mora were the Trophy Girls for the 57th Annual Primetime Emmy Awards. Markley graced the cover of Bruce J. Nadler, M.D.'s novel, "The Nip Tuck Workout: Exercise through the Eyes of a Plastic Surgeon".